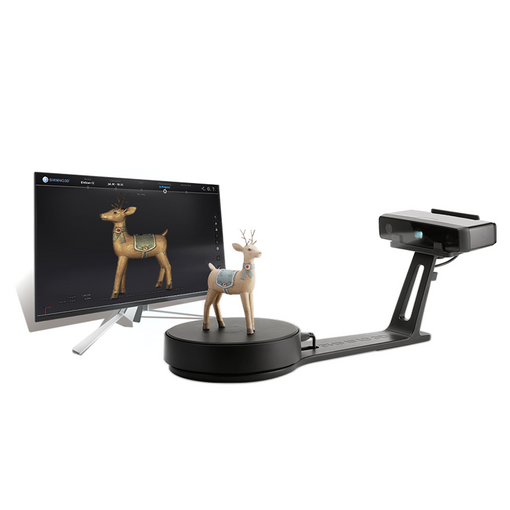 ;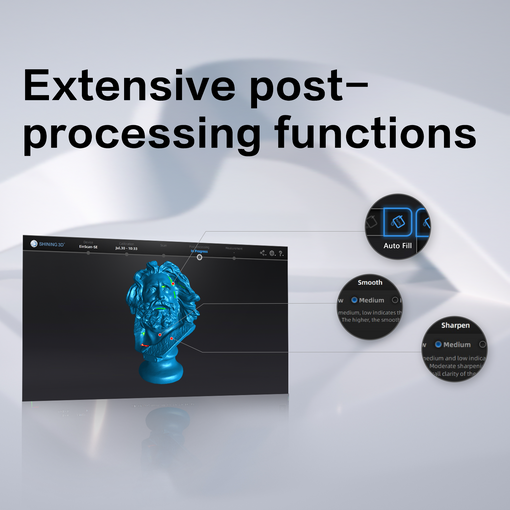 ;
;
;
;
;
;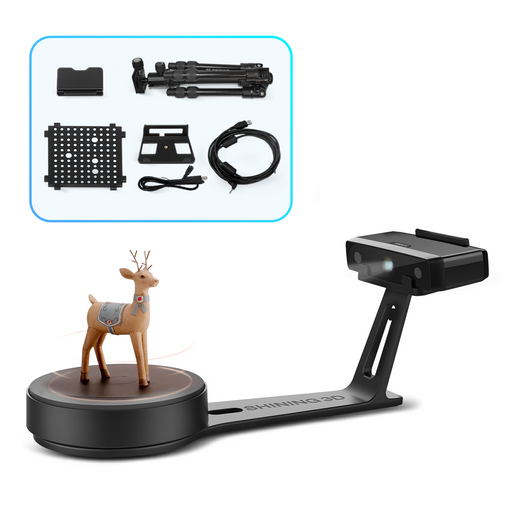 ;


EinScan-SE V2 3D Scanner,  a powerful companion for educators and individuals
High Quality Data
EinScan-SE V2 generates every scan have a high-quality 3D data.


Wider 3D Scanning Range
EinScan-SE V2 Minimum Scan Volume: 30mm *30mm *30mm
EinScan-SE V2 Maximum Scan Volume: 700mm *7000mm *700mm

Extensive Post-processing Functions
Software of EinScan-SE has the functions of filling holes,  smoothing and sharpening, and can also readjust the data coordinates in the post-processing process to provide more perfect 3D data for subsequent applications.

Fine Details
EinScan-SE V2 reconstruct the real geometry of the object with fine details.



Compatible with 3D Printers
Auto meshing to watertight 3D data.
Seamlessly connect to 3D printers.
Provide API access service for any brand 3D printers.

Streamlined User Experience
EinScan-SE V2 support One-click scanning and a
utomatic calibration with no rigid set-up required, 
1 second for a single scan, 
45 seconds for a 360-degree scan under auto scan mode.
Einstar only need one USB cable for data transmission and power. 
Clear and elegant workflow for scanning and post processing. 
Easy to setup, plug and play.

| | |
| --- | --- |
| Single Shot Accuracy | ≤0.1 mm |
| Minimum Scan Volume | 30 × 30 × 30 mm |
| Maximum Scan Volume | Fixed Scan with Turntable: 200×200×200 mm, Fixed Scan without Turntable: 700×700×700 mm |
| Single Scan Range | 200×150 mm |
| Point Distance | 0.17 mm ~ 0.2 mm |
| Camera Resolution | 1.3 Mega Pixels |
| Light Source | White LED |
| Computer Requirements (Required) | USB:1 ×USB 2.0 or 3.0; OS: Win7, 8 or 10 (64 bit); Graphic Card: Nvidia series; Graphic memory: >1G; CPU: Dual-core i5 or higher; Memory: >8G |
| Computer Requirements (Recommended) | Graphics card: NVIDIA GTX660 or higher; Graphics memory: >2 G; CPU: Dual Core I5 or higher; Memory: >16 G |
| Scanner Body Weight | 2.5 kg |
| Power Supply | 40 W |
| Input Voltage | DC:12 V, 3.33 A |
| Packing Dimensions | 570×210×210 mm |
| Load Capacity of Turntable | 5 kg |
To manage your order, we "Shining 3D" suggest you to register before purchasing, so you can go to Order Status page. If your order has been shipped, you will receive a tracking number and you can check the logistics information via the logistics company's website.
Shipping & Delivery
Shipment Time
The Shipment time is an estimate of when the item will leave our warehouse. Shipment times for each product vary depending on availability. While we Shining3D strives to ship each order as quickly as possible, new products or more popular items may have a longer delivery time.
Affected by Covid-19, there will be some delay on the delivery. If your order includes several products, the estimated shipping time will depend on the product that will take the longest. We do not separate orders, nor do we separate combo products and ship them before the estimated shipping time. If you want to receive products individually as soon as they are available, please order them separately.
Shipping Cost
Items purchased online from eu.einstar.com ship to Europe and Turkey.
We offer free shipping on order of Einstar scanner in Germany. If your order does not qualify for free shipping, the cost for shipping will be calculated and displayed on the Checkout page after address is filled before you complete your order.  
Shining 3D shall automatically charge and withhold the applicable value-added tax for orders. For international shipment, additional charges for customs clearance (including duties, taxes, and fees) must be fulfilled by the recipient; Shining 3D has no control over these charges, nor predict what they may be.
Shipping Services
Orders will be shipped from the nearest warehouse, depending on product stock availability, by GLS,DHL(DAP Incoterm). Our German warehouse will handle the shipment for Europe and Turkey.
Note: Shipping outside of Europe and Turkey, please order from www.einstar.com
Shipping Notice
For special shipping requirements, please contact einstar_shop@shining3d.com
Please confirm your address prior to payment. If you have entered an incorrect address, please contact Shining3D support promptly. We will contact our logistics staff to resolve the issue. EinStar orders can only be shipped to the country in which the order was placed. If you request a change of address after your order has been shipped, we cannot guarantee that your order will be updated. In addition, you are responsible for all risks and costs that may result from changing your address after your order has been shipped.
When placing your order, please ensure that you enter your correct name, address and contact details so that we can successfully deliver your items.
Shining3D is not responsible for delayed or rejected orders due to the following reasons
Deliveries may be delayed by 1-2 days due to shipping to remote areas.
Delays or delivery failures due to the actions of the consignee. These actions include, but are not limited to: change of address after shipment, entering an unknown or incorrect address, entering incorrect contact information, refusal to accept, etc.
Delays due to force majeure."Force majeure" means unforeseen, unavoidable or insurmountable objective circumstances and other objective conditions that cause delays in shipping, including but not limited to: control or disruption of national or regional air or ground transportation systems (e.g., weather-related), interference with or failure of communications systems, governmental actions, changes in postal management policies, war, earthquakes, typhoons, floods, fires, heavy rain, fog, and other similar events.
Mail and parcels that cannot be delivered to the addressee's address during weekends and national holidays.
The consignee address can not bea school, unit, or residential community where the courier has no access. 


Track Your Order
Register and activate an account when you are make a purchase. After the payment is done, you can log in to your account and check "My orders"
Contact einstar_shop@shining3d.com
Checking and Signing
Once you (or someone else on your behalf) have signed for the item, Shining3D will consider this to be your acceptance of the packaging, quantity and product. To protect your rights, we strongly recommend that you take a full video of the unpacking and inspect the items against the packing list. If an item is missing or damaged, please contact einstar_support@shining3d.com within 24 hours of receiving the package so that we can resolve the issue immediately.
Shipment Notification
We'll send a shipment notification email when the item leaves our warehouse. This email includes the carrier's name, tracking number, and a delivery date. You can click the tracking number to track your package or enter the tracking number on the carrier's website.